24 Nov

Johnnie Walker brings art of whisky blending to Harrods

Scotch whisky-maker Johnnie Walker has launched its Johnnie Walker House concept exclusively in British department store Harrods' Wine & Spirits Room.

Launched by the brand's distributor Diageo, Johnnie Walker House is a network of tasting and experiential centers found in duty free zones within busy airports and popular city destinations (see story). Selecting Harrods, a landmark and popular tourist destination in London, has a similar flow of passersby that may bring forth awareness for Johnnie Walker brand and its spirits.

Unparalleled service
Johnnie Walker House at Harrods will offer whisky connoisseurs a bespoke whisky blending experience as well as Johnnie Walker's most exclusive spirits.

The bespoke service, The Johnnie Walker Signature Blend Experience, lets consumers develop their own personal blend of whisky. Led by Johnnie Walker Master Blends, consumers personalize their bottle based on taste, fragrance and texture.

Consumers will be able to draw from Johnnie Walker's rarest casks, including more than 7 million from the Johnnie Walker reserves. Once the blend is established, the customization is furthered by choosing the style and design.

Before opening Johnnie Walker House at Harrods this service was only available to consumers visiting the lounge in Asia. The Johnnie Walker Signature Blend Experience retails for £95,000, or $117,550 at current exchange rates.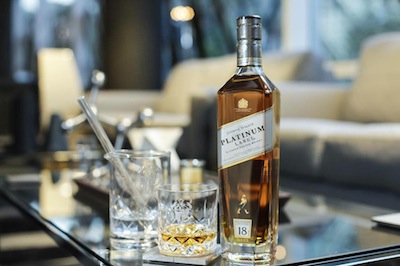 Johnnie Walker White Platinum Label 
"The Johnnie Walker House at Harrods epitomizes the old adage that whilst distilling is science, blending is an art," said Nick Fleming, spirits buyer at Harrods in a statement. "This is an unparalleled opportunity to showcase what is essentially a deconstruction of one of the most important brands in the history of whisky."
Visiting consumers will also have access to a selection of gifts such as Johnnie Walker Blue Label and The John Walker, also known as "The Founder's Blend."
When a bottle is purchased, it can be engraved for a personal touch. Engraving is done by Phillip Lawson Johnston, a Royal Warrant holder and the HRH Queen Elizabeth's official hand engraver of glass.
"Harrods is a natural partner for Johnnie Walker House as we are both committed to offering consumers an unforgettable shopping experience," said Lawrence Law, global director for Johnnie Walker. "We look forward to bringing out rare whisky collectibles to many discerning United Kingdom consumers, and adding one of the world's most famous department stores to our growing network of Scotch whisky embassies."