22 April 2017
Nigel Isherwood was so concerned about the fate of the global financial system last year that he turned to booze.
Since July, Isherwood has used a U.K.-based exchange to buy 41,000 British pounds ($51,300) of unbottled whisky still maturing inside 200-liter (53-gallon) oak casks — a bet that the Scotch will increase in value over time. His portfolio also includes fine French wine and precious metals. He sees those non-traditional assets as a financial hedge, especially if inflation takes off.
"I don't know anything about whisky, but it doesn't matter to me," Isherwood, 50, said by email from Adelaide, South Australia, where he works as a sports coach. "I know that spreading capital around is always good sense. Maturing whisky fits my investment principles."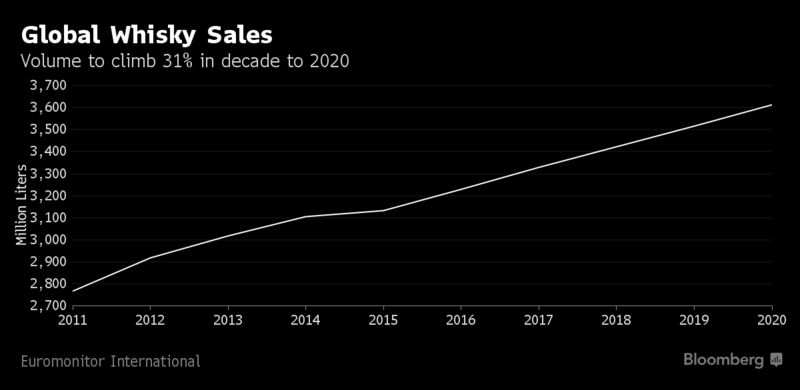 With 40-year-old Scotch fetching more than $2,000 a bottle and consumption of all whiskies growing globally, it's perhaps no surprise that investors would look to profit from the market. Price increases over the past eight years have been more than double those of gold or silver, based on industry data tracked by WhiskyInvestDirect, which offers trading in casks from 18 Scottish distilleries.
Scotland, the world's biggest whisky seller, exports more than 1 billion bottles a year and makes the only kind that can be called Scotch, according to the Scotch Whisky Association. The country has about 20 million maturing casks in warehouses. It takes at least three years before the spirits can be bottled, though higher-end varieties may sit for 12 years or more. A typical cask contains enough for about 267 standard 750-milliliter bottles.
Source for full article:
https://www.bloomberg.com/news/articles/2017-04-19/portfolios-taking-whisky-shots-with-bets-on-booze-in-the-barrel
Exclusive Offer
Receive the full details