17 Jan

Can you solve it? The whisky puzzle that will have you on the rocks

Hello guzzlers.

If you are now abstaining from alcohol, as many end-of-year over-indulgers do, today's puzzle is for you. Here's a full whisky bottle. It has a height of 27cm and a diameter of 7cm, and contains 750 cubic centimetres of whisky. It has a dome-like indentation at the bottom like many bottles have.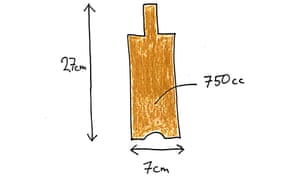 You were hoping for a dry January but spectacularly fell off the wagon. You can't remember what happened but now bottle only has 14cm of whisky left in it. When you turn the bottle over, it has 19cm of whisky.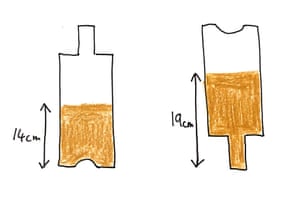 Question: how much whisky is still in the bottle, in cubic centimetres?

[Just in case you have forgotten, the following may be useful: the area of a circle is πr2, where r is the radius and π is 3.14 to two decimal places, and the volume of a cylinder is πr2 x h, where r is the radius and h is the height.]
I'll be back at 5pm GMT with the solution. Cheers!
NO SPOILERS PLEASE! It ruins the fun for everyone else. So if you work out the answer please don't add it in the comments. Instead, fee free to discuss issues surrounding abstention from alcohol, favourite whiskies or other booze-themed mathematical puzzles.
I set a puzzle here every two weeks on a Monday. I'm always on the look-out for great puzzles. If you would like to suggest one, email me.
Today's puzzle was suggested by Bernardo Recamán, a maths educator from Colombia. It is believed it was originally devised by the US mathematician Robin Hartshorne.
Source:
https://www.theguardian.com/science/2017/jan/16/can-you-solve-it-the-whisky-puzzle-that-will-have-you-on-the-rocks